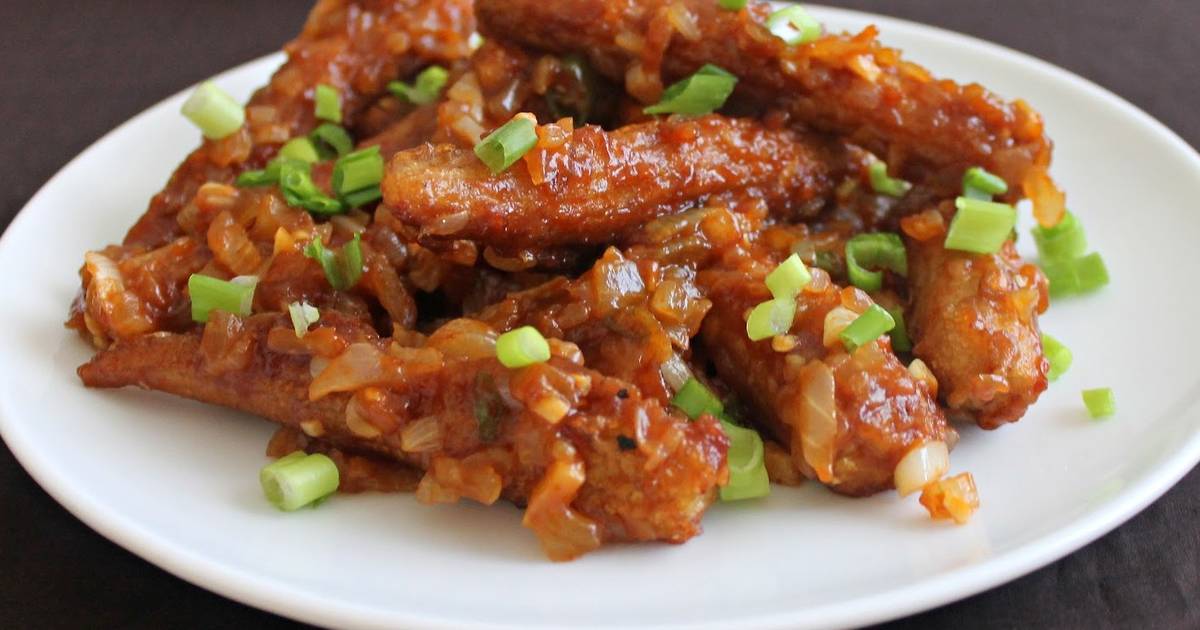 It is a very famous Indian Version of Manchurian. This is a really common dish when it comes to Indo Chinese dishes. This dish has baby corn, which generally street Chinese food vendors do not add. But we will give it a different taste, also baby corn is healthy and it gives a juicy tinge. It is basically an adaption of Chinese cuisine but in Indian cooking techniques and style.
This dish can go really well with noodles, fried rice and much more. It can be a great starter or appetizer with these main course dishes. Shri and Sam gives you essential kitchen utensils options to cook in and make your food even tastier.
Servings: 4
Cuisine: Indo-Chinese
Category:  Snacks
Total Time: 30-35 Minutes
Preparation Time: 10-15 Minutes
Cook Time: 15-20 Minutes
Ingredients
For the Manchurian
Baby corns (200 mg)
Maida/ Plain Flour (1/4 Cup)
Corn Flour (2 Table Spoons)
Soya Sauce (1/2 Teaspoon)
Ginger Garlic Paste (1 Teaspoon)
Oil Required for frying
Water (1/2 Cup)
Salt (As preferred)
Pepper powder (1/2 Teaspoon)
For the Sauce
Onions (1 Small onion and 2 Spring Onions)
Minced Ginger (1 Teaspoon)
Minced Garlic (1 Teaspoon)
Soy sauce (1 Teaspoon)
Vinegar
Red chili sauce (1 Teaspoon) (1/2 Teaspoon)
Tomato Ketchup (1 Teaspoon)
Salt ( As per preference)
Black Pepper (1/2 Teaspoon)
Oil (1 Tablespoon)
Instructions
Take the baby corn pieces and start cutting them into two pieces each, after that take a colander or a strainer and wash them properly. Let the water drain out.
Now take a mixing bowl and start adding plain four, cornflour, soy sauce and ginger paste.
Then add Garlic paste and salt and pepper accordingly. Also, add some water, but ensure that the paste is a little thick.
Now start mixing them properly for a minute.
Now you need to take the baby corn and dip in the batter completely.
Then, take a deep frying pan and pour some oil in it, Shri and Sam Frying pan lets you use less oil and does efficient cooking. Place the frying pan on the cookstove and start heating it.
Once the frying pan is warm, then add onions, spring onions and fry them for 3-5 minutes until they turn translucent.
Then you can add all three sauces in it along with the vinegar.
Now pour in the coated baby corn one by one in the pan itself. Stir properly and make sure the baby corns are fried fine.
Your Dry Baby Corn Manchurian is ready to be served, it can be served with Noodles or Fried Rice.